Yes, it's Halloween again! An occasion for pumpkins and ghostly ghouls – and a time to stock up on bowls of sweets for the inevitable trick or treaters dressed in their spooky outfits to blackmail you into offering tasty treats in return for not playing a nasty trick (which could see you cleaning an eggy mess off the side of your house the next day!).
The spine-chilling yearly tradition is less than four weeks away, so you may be starting to prepare for your own Halloween party to entertain your fiends (sorry – it had to be done!)
With this  in mind it's time to start theming all of the elements of the perfect party around everything creepy – Halloween isn't just for kids you know!
Halloween Drinkware
We have plenty of ghoulish novelty Halloween themed drinking vessels and accessories available at drinkstuff.com to ensure that your guests are ready to party with a devilishly delicious beverage or two!
There are a variety of skull design products on offer to freak your guests out – including a Brain Freeze Skull Ice Bucket; Zombie Head Decanter; Ceramic Skull Tiki Mug and these floating Skull Glasses:
With this Plastic Cocktail Fish Bowl resembling a cauldron, you can gather around like witches in a coven and share whatever Halloween inspired cocktail is contained inside – something with eye of newt perhaps?
Decorate your Halloween drinks with some accessories such as this LED Screaming Skull Straw, to scare the life out of your guests with it's blood-curdling scream!
Or make sure everyone's drinks are kept cool with these creepy frozen brain ice cubes in this Brain Freeze Ice Tray:
Halloween Tableware Decorations
As well as the skeletons hanging from the walls, draped sheets shaped like eerie ghosts and pumpkins illuminating each room with their creepily carved faces; you may wish to make some of your drink serving implements into suitably scary decorations.
How about using Kilner jars and bottles to make a table setting fit for any witch to display her most disgusting potion ingredients; such as frog's breath or worm warts?
The set in the image above is available from American Crafts, but you could make your own using Kilner jars and bottles from drinkstuff.com filled with weird and wonderful contents, and create you own labels with some revolting names to make your guests squirm in disgust!
Serve your friends their alcohol for the evening in a customised bottle, decorated with something Halloween themed to make service more fun.
How about this (not exactly scary…actually kind of cute!) quirky design?
You could use a Roma Glass Bottle or French Table Water Bottle from drinkstuff.com to replicate the design (or come up with your own!).
To accompany the 'bottle of boos', this equally witty and appealing glass design will ensure that your guests really get into the spirit (pun definitely intended!).
Again, you can create your own version of this glass using one of the options from our extensive Glassware selection at drinkstuff.com,  and following these simple instructions on how to paint on glass.
Halloween cocktails
Cocktails are so versatile for basing on Halloween themes – with options for mixing different types of alcohol to create mystical effects; using lots of coloured liquids; and decorating glasses with designs including dripping blood!
Impress your friends with some of these intriguingly spooky cocktail recipes:
Bayou Slime:
6-8 fresh mint leaves
1/2 part Fee Brothers Spiced Cordial Syrup
Preparation:
       Muddle mint leaves and syrup together, making sure to crush the mint leaves.
       Place all ingredients into a shaker.
       Shake until well-chilled and frothy.
       Strain into a chilled martini glass.
       Garnish with additional crushed mint leaves
Brain Hemorrhage:
1/2 – 3/4 oz. Peach Schnapps
Float 1-2 Tbl. of Baileys on top
Drop 1 tsp of grenadine through the Baileys
Vampire Martini: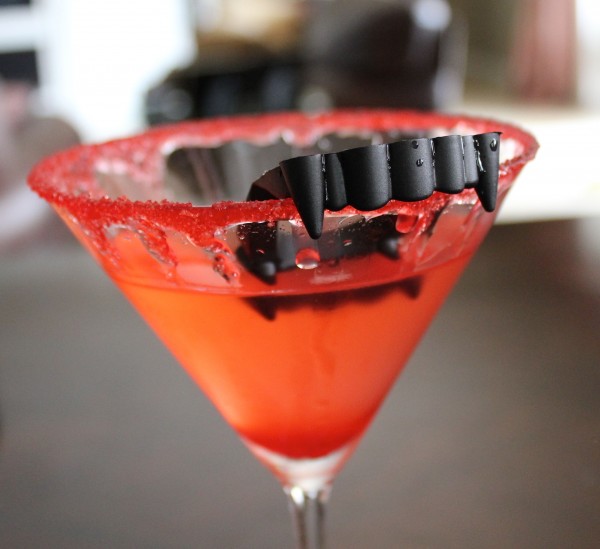 Ingredients:
1 c. Sugar
1/2 c. Karo Syrup
1/2 c. Water
Red Food Coloring
Turn off heat. While the mixture is still hot, dunk the top of the cocktail glass into the mixture to create the red rim. If you need to do several glasses, keep the mixture hot so it lasts longer (instead of turning heat off, just reduce slightly).You can go anywhere from just along the very tip of the rim to part way down the glass – whichever you prefer. Flip the glass right side up to cool. The thick consistency of the mixture will cause "drips" as it hardens on the glass! (Recipe courtesy of hostesswiththemostess).

Creepy Bubble cocktail:
For something particularly unique and quirky to amaze your friends, take a look at dabbled.org for information on how to create this unusual effect in your cocktails. Tapioca pearls give the impression of something quite mystical and strange lurking in your drink – possibly a whole glass-full of eyeballs!
Halloween comes but once a year, so what better excuse to dress up in some scary (and silly!) costumes, decorate your home with eerie adornments and indulge in some mouth-watering and creative cocktails?
With all of the components for having the best Halloween party ever covered, we hope you have a spook-tacular Halloween!
Comments
comments