Raise a glass and enjoy a brewski on Sunday 28th September as it's National Drink Beer Day!
Of course with Oktoberfest currently in full swing, it couldn't have come at a better time!
Admittedly the majority of these alcohol celebration dates are actually American but there's no reason why we can't join in the fun – after all, we could all do with an excuse to indulge in our favourite tipple from time to time!
Your first thoughts when it comes to drinking beer will undoubtedly be of gulping down your pints from a standard beer glass or tankard.
There are however some much more creative and novel drinking vessels designed to cater for the more adventurous beer lover's needs!
To add a competitive element with friends, use the Plastic Yard of Ale Glass with Lid 2.8 Pint for challenging one other to see who can chug the yard as quickly as possible!:
With Oktoberfest currently taking place, why not enjoy your beer from a traditional Beer Boot?:
Drink your beer like a true Viking (albeit a rather classy one) with this Trinkhorn Beer Glass – handmade in Austria and decorated with an elaborate pewter band wrapped around the glass:
Or how about celebrating Halloween early with this novelty Tiki Skull Glass?:
For elegant events or dinner parties, you may wish to serve beer in a more sophisticated way. Try these Gusto Beer Glasses , reminiscent of a wine glass, but wider and sturdier and in the style of a goblet:
In addition to finding alternative glasses to drink your beer from in aid of National Drink a Beer Day, how about discovering quirky ways in which beer itself can be used?
There's more to beer than you may think!
Chocolate Beer Spread
Fancy combining your two favourite vices – chocolate and beer?
Due to the linking up of an Italian chocolate maker and a beer brewer, chocolate beer spread was created!
If you're wondering what it tastes like, it is apparently a "sweet and beer perfumed jelly with an intense scent and a full-bodied taste perfect for spreading on a slice of warm toast."
It is sold at Selfridges,  and in their sales pitch they say: 'Beer lovers rejoice, you can now enjoy your favourite tipple with cheeses and bread with Omid dark ale spreadable beer.'
Beer Brownies
Another beer infused chocolate indulgence – how about giving Ashville Brew Bite brownies a taste?
A retired biochemist and his wife developed the idea – using the knowledge that yeast is vital in the brewing process of beer, and realising that once the yeast enriched with hops has been spent it could be blended with chocolate to make alcoholic brownies!
Beer can even be served up in cocktail recipes to add a little difference to the tasting experience.
Try out this beer cocktail recipe, named The Bee's Knees!
Ingredients:
1 1/2 oz Gin
1 oz Freshly pressed lemon juice
1 oz Honey syrup (1:1 honey and water)
3 oz Widmer Hefeweizen
1 Lemon wedge for garnish
Method:
Combine gin, juice and honey syrup in a shaker filled with ice. Shake vigorously and strain into a glass with or without ice. Top with beer and garnish with lemon.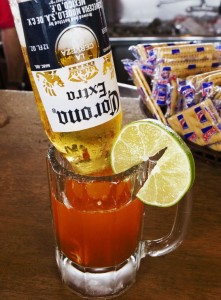 For more cocktail recipes with the addition of beer, take a look at paste.com for 10 Great Beer Cocktails!
Cheers to National Drink a Beer Day!
Comments
comments